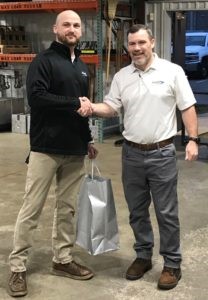 Nate O'Brian Awarded Kanawha Scales' Salesperson of the Year
July 23, 2020
Every Spring, Kanawha Scales & Systems awards employees for years of service, outstanding service, and one award is given for outstanding sales. Last year's sales award was presented to Nathan O'Brian, who works out of our Dayton, OH facility. Nate was named Kanawha Scales & Systems' 2019 Salesperson of the Year.
Originally from Indianapolis, IN, Nate has been in sales at KSS for five years. He says he enjoys the team he works with daily in Dayton. "My success in the sales field falls fully on the great work our technicians do in the field and the never-ending support from the service and branch managers as well as the office staff," says O'Brian, "the girls are awesome and get anything and everything done for our customers." He also welcomes the challenges every workday brings; assuring: "It's safe to say, you will NOT be bored working in the scales business."
Nate has a 10 year old son, Brayden, who is his trusty sidekick. "We do everything together. And our free time is spent outdoors!" A few things they like to do outside include playing travel baseball which Nate loves to coach, as well as fishing, boating, swimming. The pair is also training their new puppy – an INDY red heeler cattle dog.
O'Brian spends a lot of weekends on road trips with his son exploring new things. Nate hopes one day to have a small charter fishing boat in the Florida Bay, spending his day in the sun and on the water.