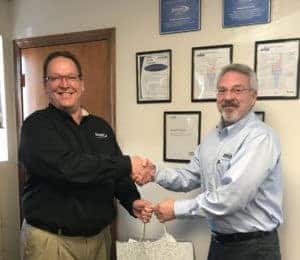 Parkersburg GM, Jeff Bowen, is KSS 2019 Paul E. Bradbury Corporate Achievement Award Recipient
July 23, 2020
Our company's Corporate Achievement Award is given in memory of Paul E. Bradbury who founded Kanawha Valley Scale in 1954. Over the past 65 years, the business has grown into Kanawha Scales & Systems and has built a reputation around the highest level of customer support, innovative technology and dedicated account management required by customers around the world. The award is presented annually to an employee who demonstrates outstanding dedication, commitment, loyalty, and perseverance on behalf of Kanawha Scales & Systems.
Kanawha Scales & Systems' 2019 recipient of the Paul E. Bradbury Corporate Achievement Award was Mr. Jeff Bowen. Jeff is the general manager at our Parkersburg and Fairmont, WV locations, as well as our company's drum filling automation sales specialist.
Jeff's career with KSS began 24 years ago when he came on the job as a construction superintendent, later moving on to service technician, territory sales, and drum filler sales, gathering the experience and expertise to fill his current role. Jeff has carved a niche in providing filling, conveying, and palletizing systems to customers in the chemical, food & beverage, personal care, pharmaceutical, and petroleum industries.
Jeff makes his home in Caldwell, OH, with Ann, his beautiful wife of 25 years, their young adult kids Matt and Emily, and Oreo the dog. Jeff loves spending time with family and friends, camping, and hunting.