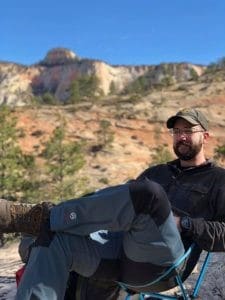 Employee Spotlight: Alex Padon, Safety & Quality Manager
July 23, 2020
Alex Padon came to work at Kanawha Scales & Systems in 2017, in a new company position at the time, as the Safety & Quality Manager, working out of our headquarters in Poca, West Virginia. Alex spends time in all of our branch facilities and with our service technicians, as well as visiting customer sites to ensure our safety and quality compliance.
A few years ago, KSS identified a need for and created this new position as a commitment to our Safety & Quality programs. This commitment is to:
Keeping KSS employees safe and trained to the most recent safety standards.
Addressing customers needs for quality service with our ISO 9001 and 17025 compliance.
Commitment to our customers that we take safety and quality on their properties seriously, and wish to meet or exceed their established safety and quality standards.
Dedication to KSS employees that we want to do everything possible to make sure that they can perform their jobs safely while working, so they can go home at the end of the day in the same condition they came to work in.
Currently, Alex is leading our Flu Pandemic Team in efforts to keep the employees of KSS safe and healthy and to help maintain a solid business continuity plan that includes planning for safety, transparency, and minimal disruption throughout the company's supply chain.
Alex graduated from Eastern Kentucky University with a Master's Degree in Safety, Security, and Emergency Management and a BS in Political Science. His previous employment was with Precision Castparts Corporation (Special Metals) where he worked as an EHS & Quality Coordinator. Alex is an avid outdoorsman, spending his free time in the WV woods and trails on his mountain bike, skiing wherever the snow is best, or on a boat in the Kanawha in the summer. He sits on the Board of Directors for the Bob Burdette Center in Charleston helping make to provide West Side Children and their families with opportunities for holistic development for healthy futures.